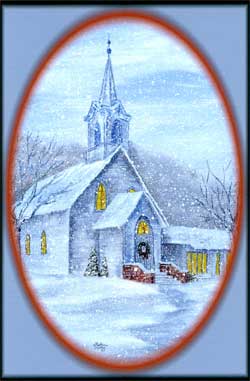 Nora UU Church
12333 155th Ave.

Hanska, MN 56041-4310
Church Phone: (507) 439-6240
Church E-mail:
Rev. Doege's E-mail:
Facebook: https://www.facebook.com/NoraChurchUU
the Rev. Lisa Doege
Nora Church's
Full-Time Minister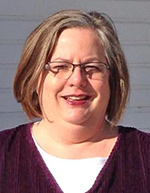 the Rev. Lisa Doege
In August 2011, the Reverend Lisa M. Doege became our full-time minister.
Ms. Doege was raised in a Unitarian Universalist family in the Twin Cities, and attended Sunday School and Coming of Age at Unity Church Unitarian in St. Paul, Minnesota, the congregation that ordained her in 1994. She holds degrees from Hamline University and Harvard Divinity School, and completed Clinical Pastoral Education programs at both the University of Minnesota Hospital and Clinics (now Fairview-University) and St. Paul Ramsey Medical Center (now Regions Hospital). After completing an internship at First Unitarian Church in Dallas, Texas, she served congregations in Bemidji and Fridley, Minnesota, and South Bend, Indiana. Narrative theology, preaching, and UU women's history are areas of particular interest. Ms. Doege also participates annually in Ohio River Group, a UU ministers' study group.
In her spare time Ms. Doege weaves, reads, walks, bakes and corresponds with family and friends. She enjoys travel and swimming. She has the often delightful, sometimes calamitous habit of seeing a project on tv or in a magazine, and responding, "I could do that!!" As a result, three large boxes of craft supplies accompanied her to the parsonage.
Lisa writes, "After more than a decade away I returned to Minnesota in 2007 to be nearer my family and to enjoy the familiar, progressive Upper Midwest way of life. I don't have a single Scandinavian ancestor, but as a native Minnesotan I eat lefse and exclaim "uff da!" with the best of them. I'm excited to be joining the Nora community; in many ways you embody the Unitarian Universalist spirit despite what outside observers might call your unlikely location. My sister and her family, my brother and his family, and my mother and her black lab (Bear) will be frequent visitors. They like hearing me preach from time to time. They like this beautiful parsonage, church and church yard even more!!"
| | |
| --- | --- |
| email: | |
| Church phone: | (507) 439-6240 |
| Cell phone: | (507) 766-7822 |
---
Webmaster & Choir Director
Please send any website suggestions or requests to Gil.
Gil Hanson
(507) 388-8776
Office Assistant
Please send orders of service and articles for newsletters to Brooke.
Brooke Knisley
Office Phone:
(507) 439-6240
Board Members
Jeanie Hinsman
President
(507) 359-7494
Nita Gilbert
Vice President
(651) 439-6624
Susan Allen
Secretary
(507) 359-2856
Julie Peck
Treasurer
(507) 388-9291
Dick Gurska
Trustee



Cell:
(507) 766-6942
------------------
Home:
(507) 834-6917

Alicia Bayer
Trustee
(507) 274-6415
Julie Sellner
Trustee
(507) 375-8737
Nominating Committee
Edith Beckius
(507) 439-6630
Nita Gilbert

(651) 439-6624
Committee On Ministry
Christopher Olson
(507) 995-7059
Jordan Kuelbs
(507) 995-6842
Ron Peck
(507) 317-4929
Vickie Sieve
(507) 354-6215
Program Committee
Karen Farrell
(507) 834-6917
Christopher Olson
(507) 995-7059
Nita Gilbert
(651) 439-6624
Jordan Kuelbs
(507) 995-6842
Lee Drogemuller

Caring & Sharing
Georgine Tepley
(507) 359-3060
Carol Chambard
(507) 354-2242
Shirley Olson
(507) 439-6879
Membership Committee
Diane Becken
(507) 354-3103
Jeanie Hinsman
(507) 359-7494
Carol Chambard
(507) 354-2242
Julie Sellner
(507) 375-8737
Visioning Committee
Karen Farrell
(507) 834-6917
Joy Rathman
(President)
(507) 877-2457
Cindy Backman

Christopher Olson
(507) 995-7059
Kristine Paulson
(507) 439-6316
Scott Chambard
(507) 439-6585
Wayne Johnson
(507) 439-6884
Building & Grounds
Darrell Hinsman
(507) 359-7494
Warren Paulson
(507) 439-6316
Karen Farrell
(507) 834-6917
Julie Sellner
(507) 375-8737
Endowment Committee
Kate Monnens
(507) 375-8124
Wayne Johnson
(507) 439-6884
Julie Sellner
(507) 375-8737
Nora Women's Society
Joy Rathman
(President)
(507) 877-2457
Norma Breu
(Vice-President)
(507) 359-4108
Jeanie Hinsman
(Secretary)
(507) 359-7494
Georgine Tepley
(Treasurer)
(507) 359-3060
Mt. Pisqua (Cemetery Committee)
Warren Paulson
President
(507) 439-6316
Shirley Olson
Secretary/Treasurer
(507) 439-6879
Scott Chambard
(507) 439-6585
Wayne Johnson
(507) 439-6884

Back to the Top